Travel Safety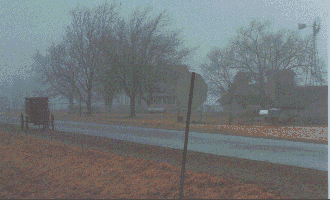 When you visit Arthur Amish Country be sure to drive carefully.
The country roads and highways around Arthur are frequently traveled by, and sometimes congested with slow moving vehicles. Standard farm equipment of all kinds, depending on the season, delivery vehicles carrying raw lumber, furniture components, animal feed, livestock etc, horse drawn equipment and Amish buggies, a lot of bicycle traffic, and a lot of people on foot, out in the country. Each afternoon when the country shops begin to shut down, our "rush hour" begins. Be especially cautious at this time of day.
Distances can sometimes be deceiving and you can come up on some of this slow traffic real quick. Add in twilight, black buggies, and pedestrian or bicyle traffic dressed in plain blues, grays, or black and ...well, you just have to extra cautious. Plan your visit to Arthur Amish Country today.
Come participate in and enjoy our slower pace. Enjoy the sights, sounds and scenes of Amish Country, and when you do, please drive safely. We want you back!